PKOM4 & PSOL+ system solution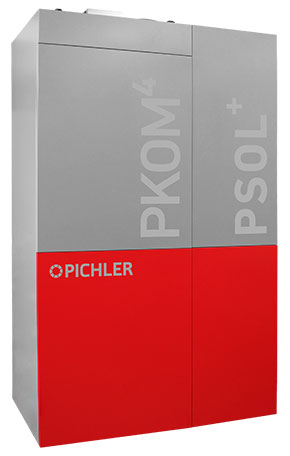 PKOM4 system solution with renewable energy
As a compact ventilation unit, the patented heat pump combi unit PKOM4 replaces a complete heating/cooling/service water system. The combination with renewable energies such as photovoltaics and an intelligent energy management system like PSOL+ makes the PKOM4 an efficient, cost-effective system solution with which operating costs are reduced to a minimum, thus making it possible to implement a zero-energy building or even a "plus energy" building.
PSOL+ providing for the easy integration of renewable energies
Design:
Storage battery up to 11 kWh
Hybrid inverter with emergency power function 6 - 10 kW
Energy management for system optimization
One app/visualization for the whole system solution


Advantages / pro arguments:
Pre-assembled / installed overall solution
Plug & play – easy, reliable
Lower installation/energy costs
Everything from one single source – one contact person
One app / visualization
Independent in the event of power failures – emergency power function
High degree of personal energy usage of the photovoltaics system

Netzwerk Passivhaus Innovations Award 2021
PICHLER is awarded as the "MOST INNOVATIVE Passive House Network Member Company 2021" for the special system solution PKOM4 & PSOL+ and as the "BEST Network Passive House Team of the year 2021" in the multi-storey residential building category.
TRIGOS regional 2020
With the PKOM4 system solution Pichler is winning the Austrian sustainability prize TRIGOS Regional 2020 in the category "Climate protection". The TRIGOS is the most renowned and respected sustainability award in Austria. The prize is awarded to sustainable companies for high-quality products and services.

As the TRIGOS jury makes clear, "J. Pichler GmbH has developed a compact heat pump combination unit that covers ventilation, heating, cooling and hot water. The integration of photovoltaics and an energy management system has created an efficient, cost-effective overall solution that is easy and intuitive to use. The dedicated family business makes an excellent contribution to reducing energy consumption and minimising CO2 emissions in the building sector. The company's sustainability efforts are clearly evident. Above all, the jury praised the company's science-based strategy and approach. Heating, cooling and ventilation with the lowest possible energy consumption is one of THE topics of the future and plays a role in climate protection and CO2 reduction. The jury sees the J. Pichler GmbH project as an important development engine for climate-friendly living."